This is my younger sister Rachel.
She's going to be 13 years old in May, and she loves Animals especially birds, Pokemon and Drawing. She's also a big, big Homestuck! She's a wonderful little girl and she's been an absolute trooper.
A couple years ago, she was diagnosed with Type 1 or Juvenile Diabetes. She has take 4 shots a day, every time she eats and every time she goes to bed. When she was first diagnosed, her blood sugar was over 300 (90 is considered normal), and she was severely emaciated and underweight. She's now a healthy weight and has adjusted quite well. But I want to give her a sort of "Birthday Present".
There's a local convention in November this year, and I want to take her to it. It's small, and easy-going, and perfect for first-timers. And she really wants to cosplay as Nepeta Leijon from Homestuck.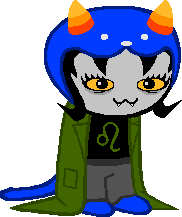 Even though it's in November, I want to start helping her with her Costume NOW. I want her to have the BEST time at this convention, and, most importantly, I want her to be the BEST NEPETA EVER.
I'm taking commissions to help pay for this, (The tickets, the costume, the make-up, everything), which you can help with dA points here: http://tehmangaka123.deviantart.com/ , or by contacting me at my email LilEmoPanda@gmail.com.
I'm also looking for suggestions from Homestuck Cosplays (where to buy the best body make-up, where to get good deals on shirts and or horns, patterns for accessories, anything really), and even if you can't afford a commission or offer any suggestions, at least pass this around.
Any help you could give would certainly make my little sister's day! And if I have ANYTHING extra, I will donate all of it to the Juvenile Diabetes Research Foundation, a charity that has always been near and dear to my heart.
Please help me make my Sister's first Convention a Great and Wonderful Experience!!